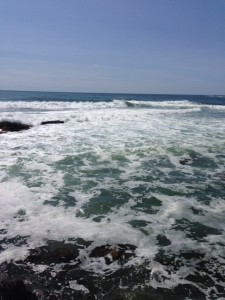 The phrase "free gifts" has always made me chuckle, not merely because of its redundancy, but in its attempt at "step right up!" marketeer slickness.
After all, the definition of a gift is something that is literally given without expectation or attachment.
Nothing is expected in return.
Otherwise it's not a gift, but a bribe — or as it's now called, "incentive."
There a few things that we really can give freely, costing us nothing but a moment.
Recently, I was at the gas station.
This is one of my least favorite errands for a host of reasons.
The least of which being "gas hands," for which there is enough hand sanitizer at my disposal.
Let's get soap and hot water on these "regular" covered mitts, STAT!!
However, my chemicalphobia is not the point of this post.
It was a clement summer day and at the pump in front of me, a very snappily dressed young fellow (he couldn't have been more than 24)  hopped out of his vehicle.
His unexpectedly dapper appearance put an instant smile on my face.
I don't see this kind of effort made everyday, particularly on someone so young.
Somehow, he was pulling off a bow tie AND flip-flops conjunction (not easy to juxtaposition).
I could not stop admiring the effort he'd taken with his boyishly classic look.
Since apparently I have reached the age where I feel like anyone under the age of 25 could be my son or daughter, this automatically sparked a motherly feeling within me.
I started to wonder whether I should tell him… well, anything.
Would it be weird?
I had completed my gas task and needed to drive past him in order to exit the station.
I realized that even if I made a fool of myself, I'll be gone in a flash and probably never see him again (he had out of state plates).
"Excuse me," I said. He turned toward me. "I just have to tell you how completely great you look!"
His eyes lit up and he cracked a large and, well, adorable, smile.  Then beamed a big "Thank you!" at me.
As soon as I said it, it was obvious that it was the right thing to do. Stifling my praise would have been a wasted opportunity.
Because in the mere seconds it took me to share my sincere compliment with this total stranger…
We created a miniature moment of authentic connection (and not just because I liked his red khakis)…
But because when two people share this kind of genuine moment, the world feels a bit brighter.
As I drove home, I felt so good, in fact, so much better than I expected, I remembered the power that we all have:
To sincerely (this is the key, phony flattery need not apply) acknowledge each other as we move through the world.
Here is my gift that I give to you freely…
Even though I can not see you from where I'm sitting, I just want to tell you that I think you're completely great!!!!
I don't need to physically see you in order to know this, because I can definitely feel it.
And I think it's HIGH time I told you!!
🙂
With Love + Compliments,
Alix