My daughter, 14, proudly describes herself as a "geek."
And last year, along with her brother, 12, they began lobbying hard for my husband and I to take them to ConnectiCon in Hartford, Connecticut.
What is ConnectiCon, you may wonder?
Why it's the Constitution State's answer to Comic-Con (the seminal comic book convention incepted in San Diego, CA in 1970).
It is my understanding that while comic books and science fiction were the original passions that first inspired the comic book convention craze, they are no longer limited to these arenas.
In fact, many "fandoms" are welcome and encouraged at conventions, from video games to Japanese Anime, to TV shows like My Little Pony (recently refashioned), Adventure Time, and Breaking Bad.
So after some consideration, we decided to do them a solid and drive them to the insurance capital of the United States on a Saturday last July for our first 'Con.'
Upon our arrival, it was impressive to see the effort fellow attendees took with their "cosplay" (the convention term for "dress up" or "costume").
Cosplay, a hobby of skill and passion, is a whole niche art form unto itself in the world of conventions.
Even as we waited in line in the parking garage to enter the convention center, there were tons cosplayers streaming by with their weekend badges.
There were some characters I recognized (and more I did not).
I found it interesting that there seemed to be a little something for everyone on the cosplay spectrum.
A 38 year-old Belle from Beauty and The Beast rocking her yellow gown (Disney at comic convention? I had no idea)…
Two Dead Pools (the Marvel comics anti-hero)…
A dozen different Links (from The Legend of Zelda) traveling in a pack…
An imposing camo'd dude from Call of Duty…
Multiple Marios and Luigis…
Many a busty sexy lady (paging Xena, Warrior Princess!)…
A fella or three dressed in drag as Sailor Moon…
A legion of fun-loving zombies running rampant (sure zombies don't run, but we'll overlook it)…
And once inside, there was the real Commander Deanna Troi (actress Marina Sirtis) signing autographs for dollars (a convention protocol) along with other sci-fi luminaries (a guy from the new Battlestar!).
My daughter was in total heaven. "These are my people!" she declared more than once with a big grin.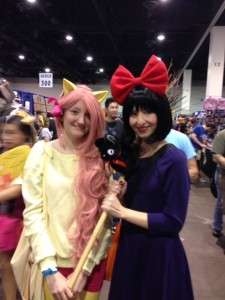 In the name of brevity, I will jump right to the point of this post:
I observed several things during this day that struck me as special.
(We've been to two more conventions since ConnectiCon and they remain true.)
1.) Unlike in the outside world, at a Con, there is no hierarchy of "cool."  No matter what your fandom or cosplay, everyone is welcome and accepted. There is no judgement at the Con.
2.) Friendliness and camaraderie are the name of the Con-game. Everyone is, well, really super nice.
3.) If you see a cosplayer in a "character" that you love, it is the accepted practice to ask to take pictures with (or of) them as a show of admiration for a job well done.
4.) Even though many are "cosplaying" as beloved characters, you get the sense that they are also being authentically themselves by wearing whatever the heck they want.
I find this brand of authenticity inspiring.
To be sure, the world of conventions is vast and complex, and I make no claims of expertise, far from it.
However, I was happily struck by how 20,000 people can mill through a giant exhibition hall "geeking out" in tandem, exuding enthusiasm (at most) for each other and at the very least, acceptance…
And I reflected, that if this enthusiasm-to-acceptance approach could be translated out in the so-called "real" world, what an extra friendly, full-time diversity-celebrating, and overall more welcoming place it could be…
This is the Path of Con.
Viva Geek Power!
Love,
Alix
PHOTO: My daughter, Hope (left), cosplaying as Flutter Shy from My Little Pony, with a fellow cosplayer dressed as Kiki from the film, Kiki's Delivery Service, at Rhode Island ComicCon in Providence, RI, November, 2013.