Hi!
I am here to remind you that you are here to fulfill a purpose.
You have a mission.
This is a mission that only you can accomplish.
This mission may play out on the main stage, in the rafters, or in the green room.
This part isn't as significant as you might think, because isn't always about who is watching.
You have unique gifts, abilities, perspectives, skills, ideas, and heart.
Maybe your purpose is healing, or caring for animals, or making people laugh, or barn raising, or community spirit building…
Or all of these put together is a stew of awesomeness called YOU.
No matter what your purpose is, your purpose has meaning.
George Bailey-on-the-bridge-on-Christmas-Eve-kind-of-meaning.
Here's the catch: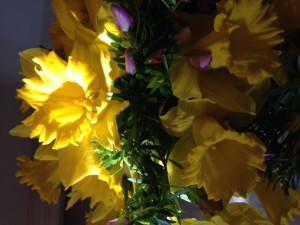 Only you can give YOU to the world.
And we need you!
You may already be confidently on your path and know exactly why you're here and what you are called to do.
If so — BRAVO!
But if you're like me, sometimes it takes awhile to gain clarity and/or courage to be who you came here to be.
(this is a-okay, since we all have our own timelines. one "time" does not fit all, nor could it)
It's important to remember, always remember, that in the simplest of terms:
You're special dammit!
So no matter what package you're traveling in, or what set of circumstances you are being forced to sift through, you are YOU and you are amazing.
And if you ever need a reminder, just email me, or post a comment below, and I will gladly remind you any time.
Seriously.
Any.
Time.
Love,
Alix
PS – Already know you're special? YAY YOU!! Please send this to someone who could use the reminder that they're special dammit too.